Self-Isolation, Louis XV Stools & Some Cooking
We're following the French governments's advice and in self isolation because Mike fits the risk group criteria. We already live in quasi-self-isolation, so the main difference is instead of food shopping daily, we're using the drive (pick-up) service at Leclerc in Mazamet. We'd never used it before and it works very well. You shop online then pick up your purchase at your chosen time. You just have to open the car door/boot and their attendant will put it inside for you.
—————————————————————————–
I got us a Louis XV stool which is keeping me entertained meanwhile. The damask upholstery was in terrible condition, so I found a replacement in the form of a period remnant in a lovely yellow. Only one side is carved as the other is supposed to fit against an armchair. Not done covering it yet (waiting for tacks) but here it is. The before and then with the fabric just pinned into place.
In other news I've retired my Teflon pots and pans. Between Mike's health and having watched Dark Waters recently – well, the takeaway from the film isn't if a particular chemical is safe or dangerous, but that you really can't trust anything that particular company says about its products. The more I read about what happened (after watching the film), the more convinced I was I should be using super old-fashioned enamelled cast iron Le Creuset.
Also in food related news, I've rediscovered  Taralli Pugliesi which have become an obsession. They're so easy and cheap to make, I don't understand why restaurants and bars don't offer them more widely, personalised versions with the spice choices of their particular chef. Here's a Pugliesi recipe in Italian, there are many online in English. Basically it's flour, olive oil, white wine and fennel seeds and salt. Make dough, make tiny doughnuts, boil until they float, bake 'til golden. That's it.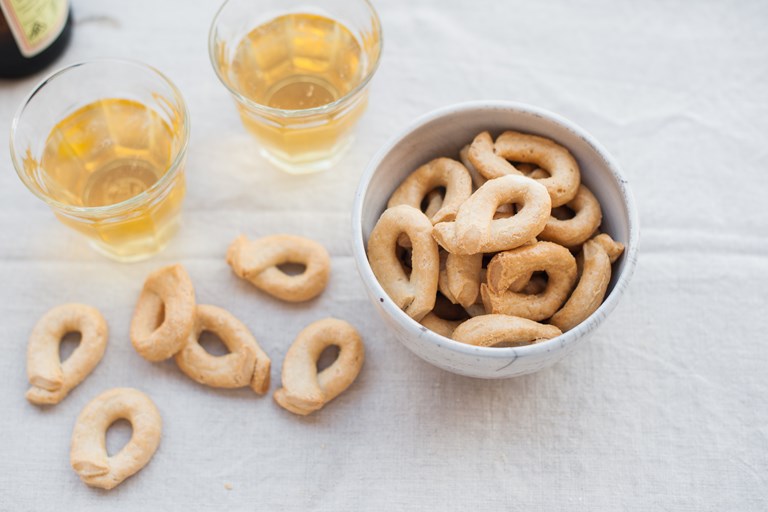 Maya is doing swimmingly. She had a little surgery on Monday and is recovering well. Her reaction when we went to pick her up was really touching. She froze as if terribly surprised to see us again, then came to us. A bit as if realising for the first time she wasn't alone in the world. She's been much more relaxed since
Update 17/03: finished stool