Reflections on White Masculinity via The Guardian + Society's failure to discuss ideas.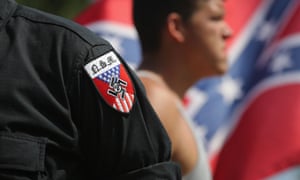 [The book is] "slated for 2018 . It's based on interviews with four different groups around the world. One of them is an organization in Sweden which helps young neo-Nazis and skinheads get out of the movement. Another is Exit, in Germany, which does the same with German neo-Nazis and white supremacists, and Life After Hate, a US group created by former members of the far-right extremist movement. The fourth group, called Quilliam, is a foundation based in London that helps ex-jihadists get out of the movement.
My book is really about masculinity and how men get into these movements and how they get out – how masculinity is entirely wrapped up with this. These are guys that really think that they don't matter in the world and have been tossed aside.
Participation in the movement gives them validation of their masculinity. There are some differences, of course. The ex-neo-Nazis who go through the program in Sweden are on average 16 or 17 years old. The German guys are a lot older and have a different trajectory. They come in largely through connections they make in prison. They are burglars and petty criminals who are radicalized there."
Source: 'Angry white men': the sociologist who studied Trump's base before Trump | World news | The Guardian
I've been wondering if one can come up with a reasonable theory regarding how large groups of people sometimes (readily) embrace destructive ideologies. Those following religion generally have the excuse of being indoctrinated from birth- those who choose to adhere to groups that offer a zero-sum-game vision of the world are an entirely different story.
I have the impression that much of the responsibility for it rests on the quality of public discourse and debate. Looking through today's papers it seemed that over 90% of the political articles focused on identity based themes. How to mobilize in the Trump era is a recurrent topic. In the past weeks I've seen at least 20 variations of that title. Isn't the best way of mobilizing to actually have debates? To really overcome racism, sexism and their companions, shouldn't we be discussing those very things? Debating why they're harmful to society and how they're in stark opposition to the values of the enlightenment and modern democracy.