Comments not loading + this brand new life
I click on the orange thingy on the upper right hand of the screen and nothing happens. That means I can only answer comments from the post itself, and then I'm not sure if the comment was to me or someone else… Is it wordpress or is it me?
I'm diving back into work, as in my regular art-related work. Trying to restore the house, reform six apartments and research art all at the same time is complicated. I'm pretty sure that's why I blog- it's the ideal way to procrastinate without feeling guilty. After all, all the other tabs that are open look very much like I'm working.
Actual work on the flats moves from the planning stage to the actual work phase this Wednesday. Very exciting.
I've decided to make my way back to my old specialty which is tapestries. I've spent most of the crisis years doing a whole lot of donkey work by selling mostly silverware- and there's nothing particularly interesting or exciting about that. You buy it, you polish it, you read the hallmarks and you sell it. It requires no great knowledge or effort.
A tapestry on the other hand, except for the very famous ones, is usually a mystery. It starts off with an artist creating the original painting (called a carton/cartoon.) A traditional version looks like this: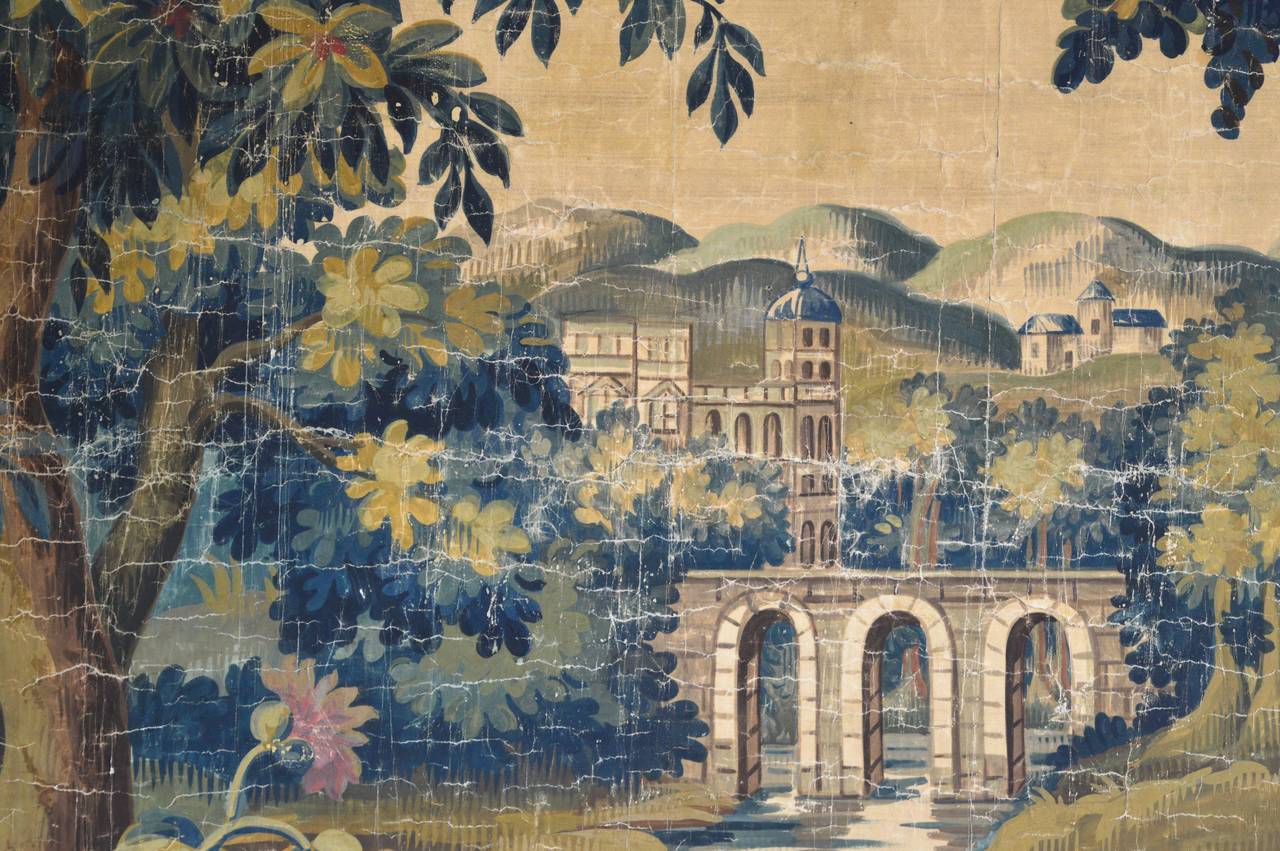 Identifying the artist who painted the cartoon can make a tremendous difference to an item's market value. It can also help with the next stage which is identifying where it was made and in a perfect world the actual atelier responsible for the weaving. Sometimes we can narrow it down by the colours and style, sometimes we have clues like hard to decipher signatures:
Sometimes you have to go through hundreds of books to finally find a reference for a signature like that. I know most people would find it boring, but I find it incredibly exciting. The one above is Martin Reynbouts (Brussels) on a piece that's housed at the Musées Royaux d'Art et d'Histoire.
But most of the time tapestries aren't signed at all- with the exception of pieces made in Aubusson after the town was given royal appointment status and strict rules were drawn out (17th century.) When we don't have much to go on, we have to be creative with the research.
Look at this detail of a piece I've been working on this month:
The tapestry itself is generic enough it could be anything- so not having much to go on I decided to street-view bridges in towns that had major tapestry manufacturers. Then suddenly I found a building right next to a bridge that had the same funny promontory over the river held up by wood beams. And to the left there was also an oddly positioned extension. So I started looking up old pictures to compare it to and found this:
Fantastic, but the roof is different… what happened? According to old newspapers, a fire happened in the early 19th century. They never re-built the two upper floors. So now I've not only got a place, but I also have a probable timeframe (pre-fire). Next, let's see if I can figure out the who. And now I should really get back to work instead of boring people!