Beautiful Things: Roland Oudot and Mercier Freres
Roland Oudot and Mercier Frères. Two names that aren't terribly well known although they should be. A few weeks ago I saw a painting by Oudot at auction and thought it was just fabulous. The sort of picture that makes you smile when you walk by.
It sold for €5625 at Christie's (France). He was born in Paris in 1897. By 1915 he was the assistant of Léon Bakst who did the costumes and painted stage decorations for the Ballet Russes. His very interesting bio is available in French here. He's one of those artists with a large range of prices – but as one would expect the better pieces do go for the Christie's range and even a bit higher.
Mercier Frères was an interiors shop in the best French tradition. Furniture, antiques, objects, wallpaper, fabric, everything and of the finest quality. They opened in 1828 at 100 Faubourg Saint-Antoine and soon counted among their clients some of the most prominent figures of the times. Their success was such that apart from Nice, Lille and even Bucharest, they opened shops in Manhattan and Buenos Aires. Here are some amusing pictures of their work.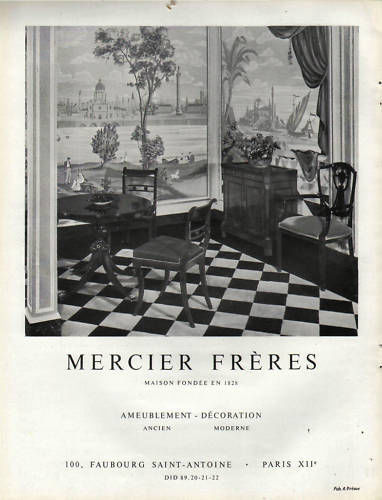 They made rather exquisite furniture which on the rare occasion goes onto the market. Looking through auction house archives I found this pair of benches which would look good in many homes. They sold in London for just under £3000. Below them is a secretaire that is also lovely.
In one of those miraculous cases, the company survived all the turmoil of European wars and stayed open until 1985. A number of gorgeous pieces are available at 1stDibs. One of the standout pieces is this Louis XVI Chest