Film, Dance and Life – not necessarily in that order
The great dancer Tamara Tchinarova died two days ago. She was the first wife of actor Peter Finch (remember Network?) It was all very peaceful. She was up one day, gone the next. She had a most extraordinary early life, middle life and later life – detailed in her book Dancing into the Unknown. It's not everyone who has their husband stolen by Vivien Leigh. She had exceptional presence, even after her mind started to wander.
♦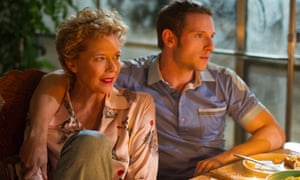 There's a new film that's just come out with Annette Bening & Jamie Bell. It's called Film Stars Don't Die in Liverpool, based on Peter Turner's memoir of the same name. A Guardian critic gave it 4 out of 5 stars yesterday. It's a very interesting story about an exceedingly unlikely match (Hollywood star Gloria Grahame, as in It's a Wonderful Life + Peter). Neither the book nor the film get into it (which is a shame) but Peter is gay. He says bisexual, but I'd say Birdcage 😀 He and Mike met at the Glasgow Citizens which was the first theatre company Mike joined after university. In any event I hope the film is a huge success and that the revival of the book goes just as well. Peter is charming, as is his partner, Yannick. That's the one who, after me being the young pretty one in the group for many years, arrived to dethrone me. Taller, younger, prettier and nicer. My consolation is people like that usually die young, and people like me live forever. I'm kidding. That doesn't console me.
♦
Mike is at the hospital for his hip surgery which is tomorrow morning. For some reason they want patients to go in the night before an operation. I've checked every possible statistic and there is virtually no risk – nothing for me to worry about. But of course, I'm me, and worry I shall.
We watched Feud this past week. The whole thing. I was terribly moved by it. Especially the last few episodes. It was scripted so it would be easy for the general public to identify with Bette Davis. I didn't. The person I related to was Joan Crawford. I completely understand her level of detachment. For some it's necessary.
Tonight is the first night ever I spend alone at number 42. Even with the days Mike will be spending at the hospital this time, the total number of days we've spent apart in the last +16 years is still less than 30.